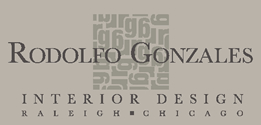 The exclusive and privately held full-service interior design firm of Rodolfo Gonzales Interior Design Studio & Showroom (RGID) ranks as a noted Raleigh interior design firm, outstanding among Chapel Hill NC Interior Design and beyond, which caters to clients throughout North Carolina and Illinois who desire high-end home and office design services and solutions that they can live with as well as admire.
As increasing numbers of RGID patrons know for themselves, RGID's founder, owner, and namesake Rodolfo Gonzales is himself much more than a premier Cary NC Interior Designer or even top North Carolina Interior Designer.
An Allied ASID member with more than 15 years of experience in the competitive world of interior design, Gonzales' high-end Raleigh interior design firm now works with clients throughout North Carolina and Illinois and has been featured in the Chicago Tribune, Chicago Magazine, and on HGTV's Before and After and New Spaces series.
Prior to establishing RGID, Gonzales worked as designer at Baker Knapp & Tubbs located in Chicago's famed Merchandise Mart and was in charge of designing Baker's Trade Showrooms in Dania, Los Angeles, Dallas, New York, San Francisco, Atlanta, Seattle and Chicago.
The caliber of Gonzales' signature success as a designer is exemplified through his design of the Saudi Arabian Embassy in Cairo, Egypt, and through numerous interior design projects for both corporate and residential clientele.
RGID design projects, likewise, testify to the scope and breadth of RGID capabilities and expertise, spanning the gamut of possibilities for complete residential and commercial interior design services: from homes ranging in size from 1,500 square feet to 18,000 square feet, to supplying interior designs for restaurants, corporate apartments, home offices, university halls and commercial spaces.
Additionally, RGID specializes in custom furniture designs to meet clients' needs.
Always ready with innovative yet realistic touches and recommendations as called for, RGID designs are custom-tailored to the highest possible expression of client tastes and preferences, through the continuum of possibilities —from traditional, classic, contemporary, or transitional; right through to and including lines, finishes, textures and materials.
Versatile and thorough, the firm of RGID works with client builders and architects to ensure delivery of a comprehensive integrated design at project completion, supplying:
• Floor planning
• Elevation analysis
• Remodeling/renovation
• General contracting coordination/referrals
• Staging
• "White-glove" delivery & installation
• Lighting design
• Custom millwork
• Custom cabinetry
The comprehensive and high-quality RGID product line is of course complementary to comprehensive high-end RGID designs, and consists (though not limited to!) distinctive furniture and furnishings; lighting & chandeliers; carpeting & rugs; fabrics; wall coverings; window treatments; custom draperies; custom drapery hardware; tile; flooring; accessories; fireplace mantels; and fine art (both original & limited edition) -- from many of the world's leading manufacturers and artists including Baker, Bolier & Company, CCB Bronze, Councill, DeGarrio, Fine Art Lamps, GABO, Hancock & Moore, Ironware International, JANUS et Cie, Jessica Charles, Kravet, Niedermaier, R. Jones, Richard Ray, Soicher Marin, Stone Yard, and Woodland.
View examples of top brands like these in RGID's recently opened 3,000 ft Showroom and Design Studio in Raleigh's prestigious North Hills Shopping Center, North Carolina. There's nothing like an in-person visit to convey the quality and magnitude of our offerings -- please visit our showroom to view a sampling of our home furnishings, as well as to take advantage of periodic floor sample sales of custom furniture pieces.
www.rodolfogonzales.com
Rodolfo Gonzales Interior Design
4381-105 Lassiter at North Hills Avenue
Raleigh, NC 27609
(919) 573-4010
Rodolfo Gonzales
Allied Member ASID
rodolfo@rodolfogonzales.com
Raleigh Interior Design | Raleigh NC Interior Design | Raleigh Interior Designers | Raleigh North Carolina Interior Designer | Chapel Hill Interior Design | Chapel Hill NC Interior Design | Chapel Hill Interior Designers | Chapel Hill North Carolina Interior Designer |Durham Interior Design | Durham NC Interior Design | Durham Interior Designers | Durham North Carolina Interior Designer | Cary Interior Design | Cary NC Interior Design | Cary Interior Designers | Cary North Carolina Interior Designer